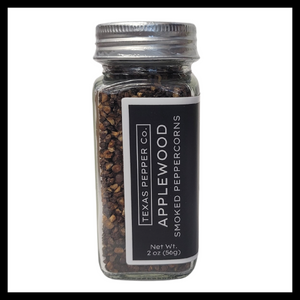 Texas Salt Co
Applewood Smoked Peppercorn
Regular price
$12.00
$0.00
Unit price
per
Introducing the delectable applewood smoked pepper, a unique and flavorful seasoning that is sure to elevate any dish. Made from half-cracked black peppercorns that are cold smoked over apple wood in Bandera, Texas, this pepper adds a smoky and robust flavor to any recipe.
The smoking process used in the creation of this pepper gives it a distinct taste that sets it apart from regular pepper. The apple wood imparts a subtle sweetness to the peppercorns, resulting in a complex and well-rounded flavor that pairs excellently with grilled meats, roasted vegetables, and even desserts.
Whether you're a seasoned chef or a beginner in the kitchen, applewood smoked pepper is an excellent addition to your spice collection. Its versatility and unique taste make it a must-try for any foodie. Give your taste buds a treat and sprinkle some of this delicious seasoning on your next meal.
Grind in any preferred mill to enjoy.
INGREDIENTS: SMOKED HALF CRACKED BLACK PEPPERCORN
---